Restaurant Review – Zizzi, Intu Derby
Posted on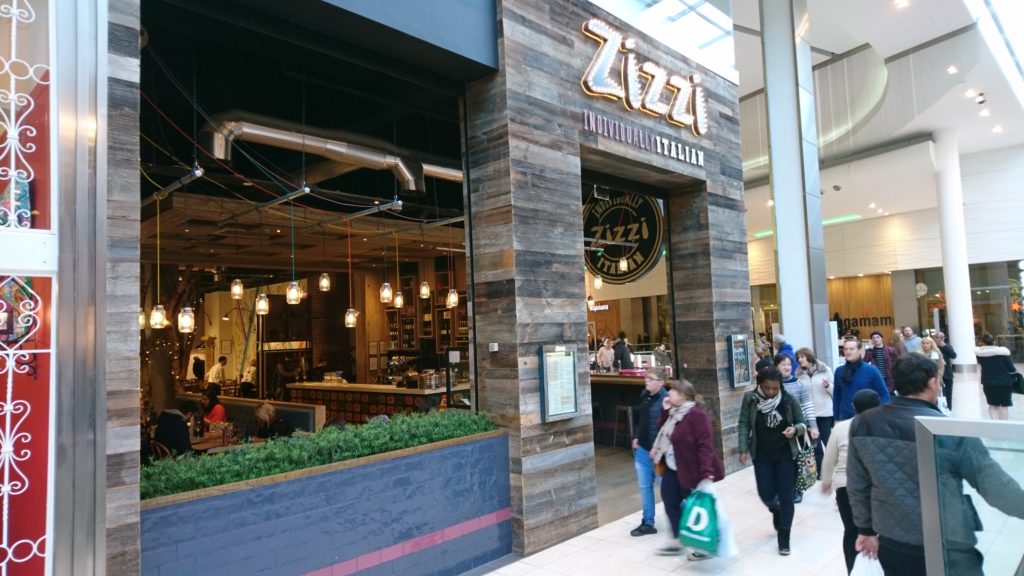 Back in December 2017 myself along with a few family members went along to Zizzi at Derby's Intu Centre for a post-birthday meal (it was for my fiance – happy birthday sweetheart!). Zizzi was chosen thanks to an excellent previous visit here, particularly due to their vegetarian and vegan options for certain members of our party.
The Main Choices
For my main dish I opted for that good old Italian favourite, pizza. I decided to go for a rustica pizza, which is thinner and more stretched out, with my chosen toppings of spicy chicken and pork crackling. The pizza was indeed huge in size and was an absolute delight to eat – the base was crispy in parts and not soggy, the crackling was crispy, and the chicken was tasty. Of all the chain restaurant pizzas that I've eaten this was definitely the best one I've had to date.
My dish was from the standard menu but a festive menu was also on offer, and among the festive offerings was a special vegan pizza. If you are a vegan pizza fan then Zizzi do have a vegan cheese available, and with the 'make your own' option you can create your own dream vegan pizza if you wish
(NOTE – the additional toppings aren't listed on the online menus (at time of writing), instead please check inside the restaurant regarding this).
Desserts anyone?
Some of us did opt for dessert including myself. Normally I would by fussy and go for plain vanilla ice cream, but this time I instead decided to have the vegan chocolate torte (at the said previous visit I did try a small bite of this) and considering I don't normally go for vegan dishes this was actually a very pleasant dessert. In fact I was so keen to tuck in to my dessert that I forgot to take the photo of it first, hence the 'partly eaten' photo taken above (OOOPS!).
The Overall Verdict
This was only my second visit to Zizzi but it certainly won't be my last. The pizza was delicious, the dessert was pleasant, oh and we also got prosseco at the start of the evening. Overall a fantastic evening with great food, and I certainly look forward to my next visit to Zizzi.
Address – West Mall, Intu Shopping centre, Derby DE1 2PL
Website  – https://www.zizzi.co.uk/italian/restaurants/derby/intu