Restaurant Review – Yaks & Yetis, Ross on Wye
Posted on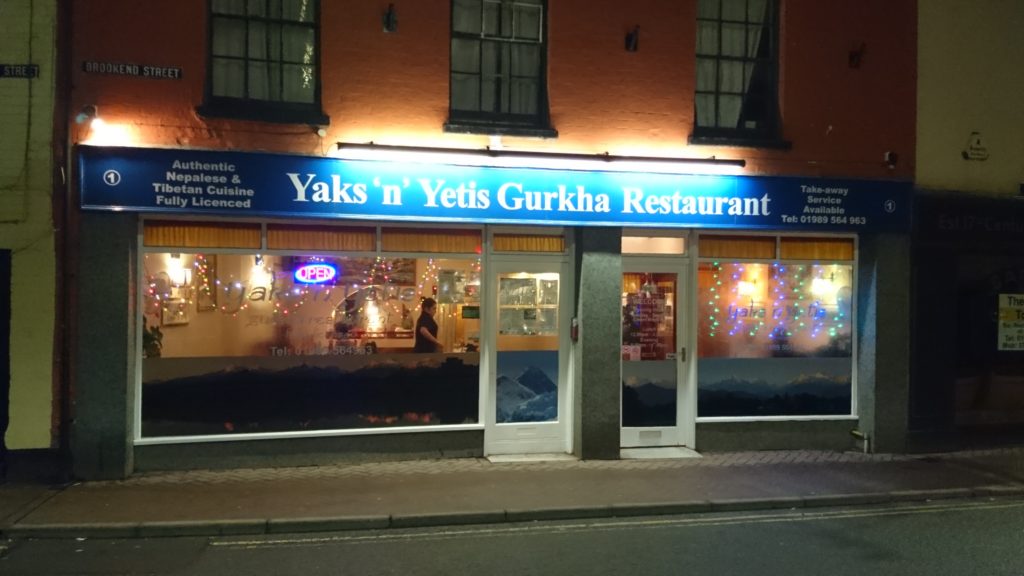 It's Christmas 2017 and the Mrs and I head off to the lovely picturesque town of Ross-on-Wye in Herefordshire for a festive break with family and friends. One evening (my birthday in fact) we headed into the town centre for a meal out at one of our favourite restaurants in the town – Nepalese/Asian outlet Yaks & Yetis.
So to start with?
After some deliberation we decided that we would have starters, although I decided to go for the simple choice of poppadoms (always a favourite of mine). My partners' starter choice was steamed momo vegetable dumplings, served with fresh salad and sesame seed pickle.
Now the main courses
For my main course I chose the Kathmandu chicken curry, and I was feeling a bit braver than normal and opted for medium spice – a good choice as it turned out.
The curry was nice and hot, and the chicken was really tasty. The side order of boiled rice really complimented the curry.
My dining partner opted for a mild Vegetable Daal Bhat – curry with lentils saute soup, spinach, homemade pickle, crunchy soya beans and basmati rice.
The Daal Bhat was another really tasty curry and like me with my chicken curry choice my partner would certainly have this vegan curry option again.
Room for desserts?
Well YES we did have room for a dessert, and it was my birthday so why not? I decided to opt for just plain vanilla ice cream.
Unfortunately there were no vegan dessert options available so my dining partner instead opted for a coffee liqueur, this isn't actually listed as a beverage but the staff were more than accommodating to provide this.
Definitely returning here!
We've always enjoyed eating out at Yaks & Yetis and this occasion was no exception. Great food, great service, great restaurant (special praise for looking after my vegan dining partner)  – we'll definitely be back when we visit Ross sometime in the future.
Address – 1 Brookend Street, Ross On Wye, Herefordshire HR9 7EG
Facebook – https://www.facebook.com/Yaks-n-Yetis-Gurkha-Restaurant-109089562484899/