Restaurant Review – Wagamama, Intu Derby
Posted on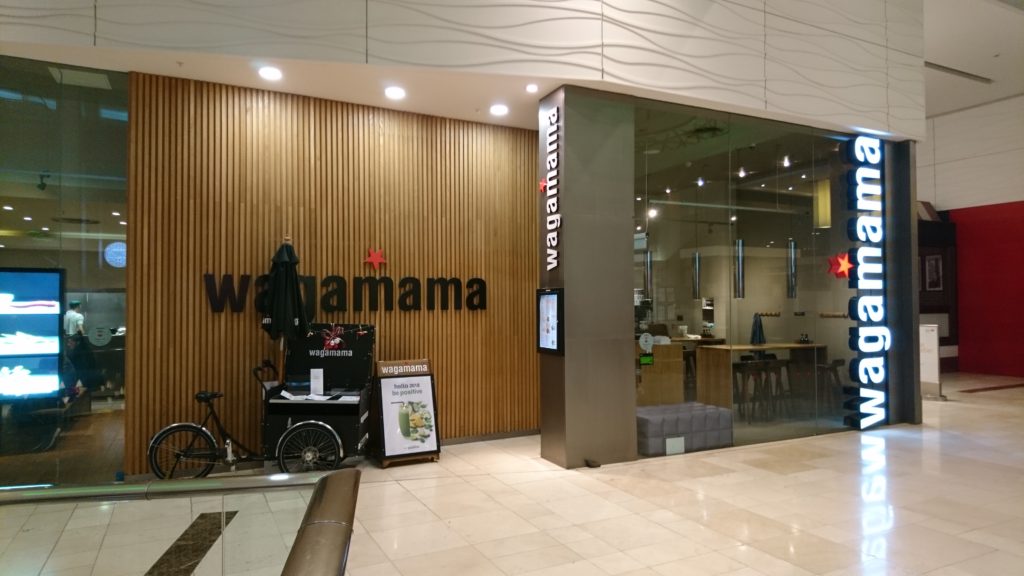 After a long New Years Day 2018 watching the football and consuming post-match pints the good lady and I headed off to find a restaurant open that evening for dinner. Several restaurants were closed but thankfully a few were open including Japanese chain Wagamama, and it was Wagas that we settled upon for our post-match dinner.
We are both huge fans of Wagamama having visited this chain a few times, and we've always been satisfied on each of our previous visits. Needless to say that expectations were high on this New Years Day visit.
Starters
Unusually for a chain restaurant visit we decided to have a starter (we'd end up having 3 courses as it turned out).
For my starter I went for the pork ribs, served in a Korean sauce with mixed sesame seeds. These were quite a nice appetiser, with the seeds adding a little spice to the ribs.
My dining partner opted for the Yasal Gyoza – five tasty steamed dumplings, filled with vegetables, served grilled and with a dipping sauce.
Main Choices
Time for the main dishes, and I opted for the ever-popular Chicken Katsu Curry with Sticky Rice.
I've always enjoyed this dish and this occasion was no exception – the breaded chicken pieces were very tasty, the rice was plentiful, and the curry sauce was nice and hot.
My dining partner's choice of vegan main was the Yasai Yaki Soba – noodles with mushrooms, peppers, beansprouts, white and spring onions, garnished with fried shallots, pickled giners and sesame seeds.
The Yasai Yaki Soba looked like a very appealing vegan dish, and so much so that I even tasted a bit of this dish myself. Needless to say I would certainly consider this particular dish on a future visit.
Sweet Treats
After a bit of deliberation we decided to have desserts in the end. I've been getting in the spirit lately for trying something different from my usual choice of just plain vanilla ice cream, and this time was no exception as here I opted for the Chocolate Layer Cake.
This rather yummy sweet treat consisted of layers of chocolate sponge, dark chocolate parfait and hazelnut cream, served with vanilla ice cream. When I say yummy I really do mean YUMMY – the chocolate flavour was nice and rich, and as ever the ice cream was good too.
The vegan dessert choice is somewhat limited to just a couple of sorbets. My dining partner opted for the Pink Guava and Passion Fruit Sorbet.
The Overall Verdict
Our high expectations were certainly met here – the food was well presented and tasted delicious, the service was excellent, and the restaurant atmosphere was good. The only downside to all of this was the rather large hole in the wallet – just over £40 for the lot. It's a good thing we opted for plain water and green tea for drinks (both free of charge). Needless to say though that we thoroughly enjoyed our latest visit to Wagamama and we'll certainly be back again soon.
Address – Intu Derby, London Road, Derby DE1 2PQ
Website – https://www.wagamama.com
Facebook – https://www.facebook.com/wagamama