Restaurant Review – Red's True BBQ, Nottingham
Posted on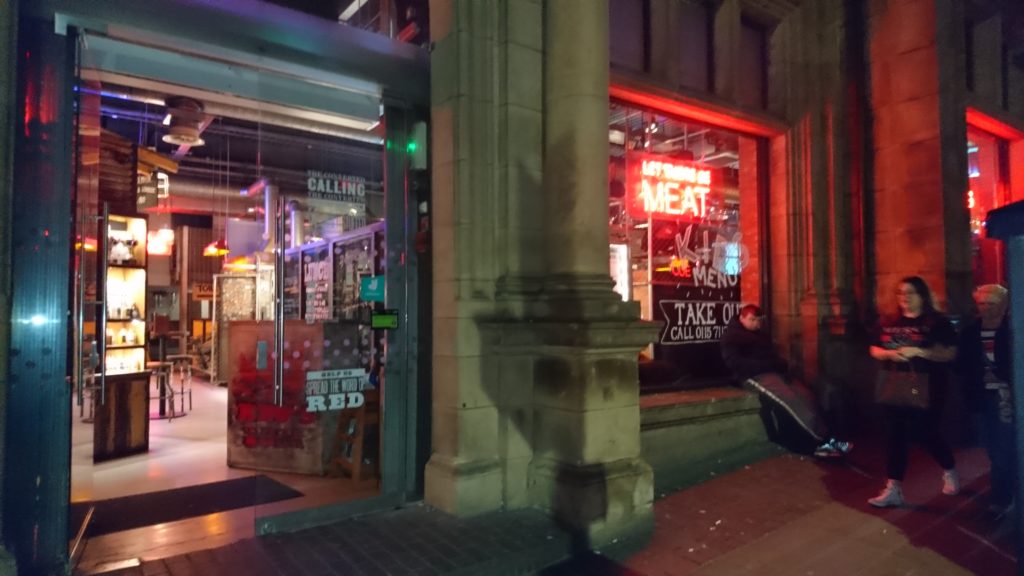 One area of the restaurant sector that has taken off over recent years has been Smokehouses – restaurants that serve a range of 'smoked' meats, cooked low and slow. Over the last 3 years I have visited the odd smokehouse establishment or two, and one of these visited venues is smokehouse restaurant chain Red's True BBQ in Nottingham. Having made two previous visits to the Nottingham restaurant plus a visit to their Manchester branch (and enjoyed my meals on all three occasions) my expectations were not surprisingly high for this latest visit.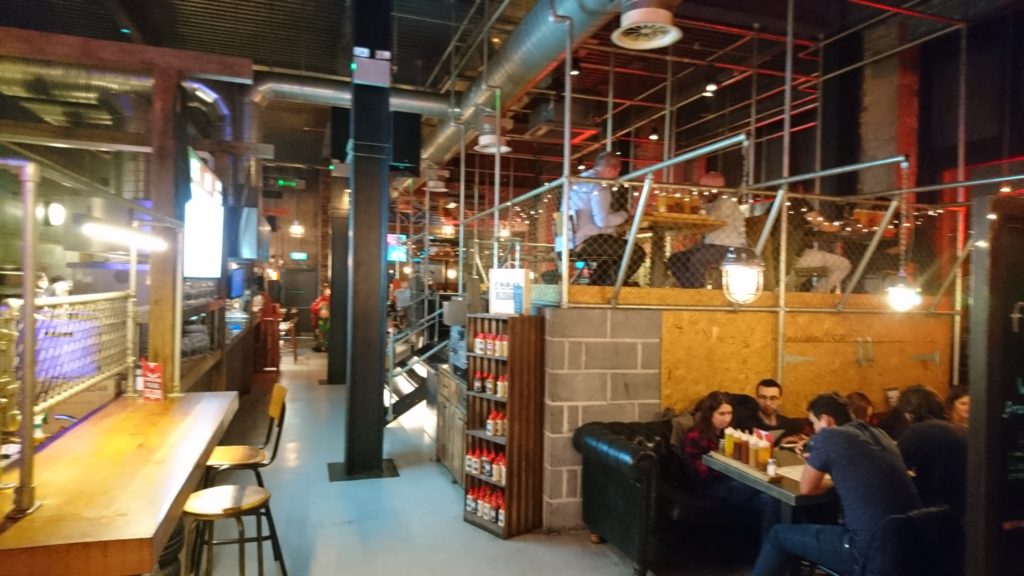 A big table "booking"
This particular visit to Red's was not one of those 'shall we just go there' type of visit. This was all planned (by me) and luckily Red's were happy to accommodate a weekend party of 11 of us. This is especially so as with it being a weekend Red's don't take advanced bookings on Fridays and Saturdays so we had to call in to reserve a table, and availability pending we would get a call informing us that the table was ready for us. This does allow time to have a few drinks at a nearby bar whilst waiting for your table, and by the time it's ready you are perhaps more than ready for some delicious smokehouse meats (you've probably had a few drinks by this point).
Anyway about 90 minutes after making our 'booking' our table was ready and it was off to Red's.
My chosen meats
I won't bore you by taking about EVERYONE'S chosen dish as that would make for the very long article (plus I didn't take notice), so instead I'll just write about what I had which should be more than sufficient (food-wise it certainly was). Now those of you who know me well will know that I do like my meat, and often I choose chicken so it won't surprise you to know that this particular meat would feature in my dish.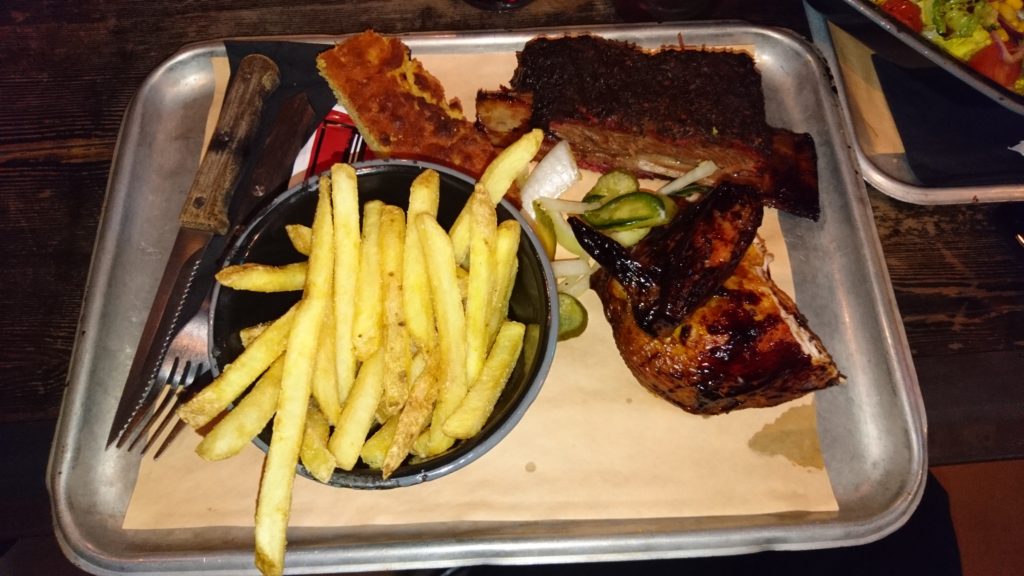 My chosen dish was the Beef Long Rib & Sticky Chicken – Beef rib and 1/4 smoked sticky chicken, with Unholy BBQ sauce. The chicken is cooked low and slow, and this does result in a pink smoke ring but don't worry it meat is not undercooked (I wouldn't be writing anything positive about this meal if it was). As this was a main meat dish it came with two sides, my choices being the skin-on fries and tray-baked cornbread, which I do recommend.
I don't think words can truly describe how fantastic this meal was, but I'll give it a go. The beef was exceptionally nice and tender, not tough at all. The chicken was tasty as usual, with the BBQ sauce adding some nice flavour. Overall this was a REALLY REALLY FANTASTIC MEAL!!!! And I was so full from the meal that I couldn't manage a dessert (not that I was planning on one anyway).
I'll be back?
This is a bit of a silly question really judging by this meal – of course I'll be back at Red's True BBQ! Fantastic meats, very filling – what more could you ask for? Although not mentioned in this review all of my fellow diners in the group really enjoyed their respective dishes as well so they will no doubt be looking to return to Red's sometime soon.
Also to add a huge thank you to Red's True BBQ for managing to fit in our party of 11 on what was a busy Saturday night!
Address – 11 Queen St, Nottingham NG1 2BL
Website – https://truebarbecue.com/nottingham/
Facebook – https://www.facebook.com/RedsNottingham
Twitter – https://twitter.com/RedsTrueBBQ