#MyDerbyStory – My Derby County Memories
Posted on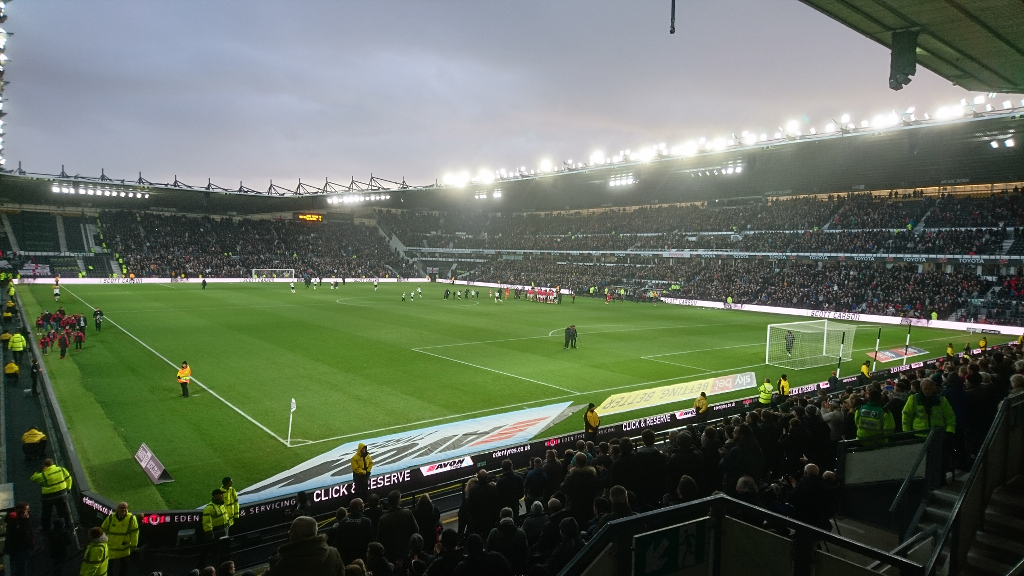 As a supporter of Derby County I, like many other Rams fans, are deeply concerned about the future of our beloved football club since it entered administration in September 2021. Fears that the club could go out of business are of huge concern to all Derby fans alike. Following recent events concerning the future of the club many Rams fans have been taking to social media to share their Derby County memories using the hashtag #myderbystory. Whilst I could do the same I don't think a single tweet or a thread of tweets would do justice for me here. So here are some of my memories of Derby County Football Club.
First, the memorable occasions I was at
My First Derby Match – March 1993 v Cambridge United
I would go to my first ever Derby County game in March 1993, a Division One match at home to Cambridge United at the old Baseball Ground. The match finish 0-0 so not exactly one of the better Derby matches that I've attended.
The Pride Park Announcement – February 1996 v Luton Town
The home match against Luton Town was just another league game in what would be The Rams promotion season to the Premiership, but the night would be a significant moment in Derby County's history. Before the match an announcement was made that the club would be moving to a brand new stadium in 1997, and a huge cheer from the Derby fans in attendance would follow this monumental announcement. The game itself finished 1-1 with the Rams gaining another point towards their promotion target, something that they would achieve by finishing second that season.
The 1996/97 Season – Premiership Football and The BBG's Swansong
It was rather fitting that Derby would be playing in football's top division in their final ever season at the old Baseball Ground. Favourites to go straight back down The Rams stayed out of the relegation zone all season and secured a very comfortable mid-table finish. I attended a couple of home games in this particular season;
Derby v Chelsea in March 1997 – the Rams coming back from behind twice to eventually win 3-2
Derby v Aston Villa in April 1997 – The Rams won this match 2-1
The Opening of Pride Park Stadium
Friday 18th July 1997 would be a monumentous date in the history of Derby County Football Club when their brand new home, Pride Park Stadium would be officially opened by Her Majesty The Queen. It was a very special occasion for everyone who attended (I wonder how many of the youngsters in attendance skived off school that morning just to be there? I mean I did).
The 1997/98 Season – The First Season at Pride Park
The 1997/98 season marked the start of a new era for The Rams with their ever season playing at their new home. A particular personal highlight for me occurred on Saturday 30th August 1997, when our first completed home league game at the stadium took place – a 1-0 victory against Barnsley. My highlight of the day was actually before the match when I went on a VIP tour of the stadium, something which I won in a competition from the Derby Telegraph. I can still roughly remember the question being asked in the competition – what was the highest ever attendance for a match at the old Baseball Ground (41,826 against Tottenham Hotspur). I would go to several more home games during this inaugural season at Pride Park (mostly good games).
*The first league game was actually against Wimbledon on 13th August 1997, but the game was abandoned in the second half due to floodlight failure with Derby leading 2-1. The rearranged fixture in October 1997 finished 1-1.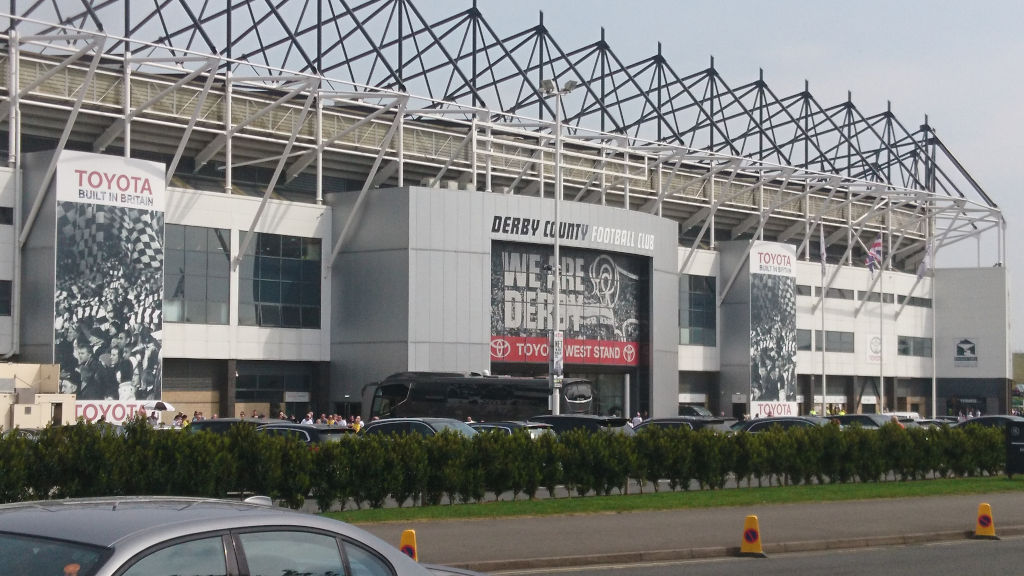 England U21s v France U21s – February 1999
Just over 18 months after Pride Park Stadium opened the ground would host it's first ever England international match – an U21s game against France. A sell-out crowd was out in force to inspire the England youngsters to come back from 1-0 down at half time to win the game 2-1.
Play Off Semi-Final v Southampton – May 2007
Having missed out on automatic promotion Derby would have to battle through the lottery of the Play-Offs in order to secure a return to the top-flight. First up was a semi-final encounter with Southampton. Taking a 1-0 lead with them from the first leg away The Rams drew 4-4 on aggregate, which resulted in the dreaded penalty shootout. The Saints would miss their first spot kick with Derby capitalising on this. A crucial miss later on by Southampton meant victory for The Rams, and a pitch invasion by over-ecstatic Rams fans followed. Now there was the small matter of the final at the new Wembley.
Play Off Final 2007 v West Bromwich Albion – We're Going to the New Wembley
All football fans dream of seeing their team play at the national stadium, and in May 2007 Derby fans would see their team play at the newly-opened Wembley Stadium for their Play-Off Final encounter with West Bromwich Albion. A cagey first half was followed by more of the same after half-time, that was until Stephen Pearson scored what turned out to be the winning goal for Derby. A 1-0 victory and The Rams were back in the top flight of English football after a five year absence. Of course we all know what happened in that following season so we won't dwell on that.
2008/09 League Cup Semi-Final v Manchester United
Whilst The Rams had a disappointing season in the league they did have a good run in both domestic cup competitions in 2008/09 including a first semi-final appearing in the League Cup for years. Manchester United were our opponents in the last 4, and whilst we lost the tie over the two legs a 1-0 in the first leg at home did bring a lot of joy to Derby fans. We would also face Man Utd in the FA Cup a few weeks later, again condemned to defeat against the Premier League side.
2008/09 FA Cup 4th Round Replay – away at Nottingham Forest
This would be my first ever away trip to a Derby County game, and what a match this turned out to be. After going 2-0 The Rams fought back to win 3-2 against Forest to set up a 5th Round tie at home to Manchester United. A couple of funny moments that night:
Chants of 'Bring on United' from the Forest fans at 2-0 down only for Derby to turn things around and start chanting it ourselves at 3-2.
The attendance of 29,001 – as soon as this number was announced some of us started jokingly ask 'who's the one? who's the one?'
2011/12 Season – Jake Buxtons' Injury Time Winner v Nottingham Forest
This encounter with Forest, which was a rearranged fixture due to originally being called off due to weather conditions, was set to be heading for a goalless draw. However deep into injury time Jake Buxton headed the ball into the Forest net to secure the points and bragging rights for The Rams.
2013/14 Season – Derby 5-0 Nottingham Forest
True story this one – On route to this latest encounter with Forest my wife jokingly predicted that Derby would win 5-0. How ironic that we would actually win be that scoreline. This one goes down for me as the best ever game against Forest that I've witnessed.
Play Off Semi-Final 2014 v Brighton
This play off encounter was more comfortable than the one against Southampton back in 2007, but nevertheless victory was marked with a joyful pitch invasion by delighted Derby fans. Sadly The Rams missed out in the final against QPR – the less said about that match the better.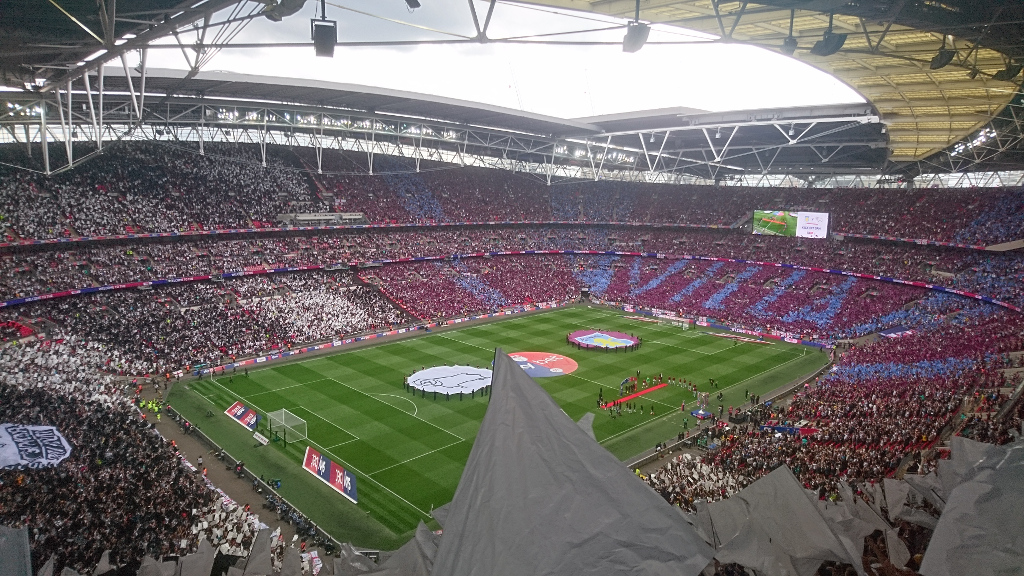 Some Other Derby Memories of Note
1995/96 – Derby clinching promotion against Crystal Palace
1996/97 – Derby beating Manchester United at Old Trafford
2000/01 – Derby beating Manchester United at Old Trafford, and securing Premiership survival in the process
Play Off Semi-Final 2019 v Leeds – one of the best play-off battles ever. Sadly Derby would be beaten by Aston Villa in the Final.