K.Scout Plus – Seven years, over 300 editions, and recognition later.
Posted on

Article updated on 22nd October 2019 following on from 300th edition of e-newsletter.
Some of those who know me well will know that I have had a huge interest in website design and development. Indeed I've run several websites over the years, mostly for Derbyshire Scouts, which I'll come back to shortly.
Firstly, some initial background
The skills that I obtained from developing websites would put me in good step for new employment in 2008 when I began working for the Web team of a sales and marketing company. One of my main roles here was to build email newsletters that would be sent out to over 70,000 customers all over the world. I learnt a lot from email newsletter development not least learning that different email clients display the emails differently so you have to test them all the time.
So, about this K.Scout role?
Anyway in 2011 I was approached by Derbyshire Scouts about becoming editor for a new e-newsletter for the County. After an initial approach by the then County Commissioner and County Media Manager followed by a meeting to discuss the role further, I was only more than happy to accept the role.
Now the email development skills that I learnt from my employment would prove to be of huge benefit for this new role, as would my general website development skills (mostly HTML coding). Indeed this would be another coding-based role that I would undertake for Derbyshire Scouts having run several websites for various organisations within over the years including Derbyshire Scout Network, Belper District Scouts, Derbyshire Scouts County Ball and Derbyshire ExFest.
February 2012 – The Launch of K.Scout Plus
So having agreed to take on this new e-newsletter role it was now just a case of getting a template developed and then to put the actual newsy content (a mix of items from County and beyond) in for the launch edition. The first edition, sent out in February 2012, would initially be sent out to just over 50 subscribers but was then also emailed out to a wider email list in order to encourage more members to sign up to K.Scout Plus.
Over the following weeks and months subscriber numbers would continue to grow at a considerable rate (currently over 600 subscribers at time of writing). One of the main factors behind this was that K.Scout Plus would be able to send out news and information out directly to subscribers without any middle-people, and most of the items included were sent to me (the editor) for inclusion (well it does save me the hassle of having to dig out items myself).
Issue 100 of K.Scout Plus went out in February 2014, this a significant milestone for the e-newsletter and for me in my role of editor.
January 2016 – Time to go mobile
Having used the same template for K.Scout Plus for nearly 4 years since its launch (with minor changes) it was time to make major changes to the e-newsletter (for the better of course). The main tasks here were to design a new template, and also to make K.Scout Plus mobile friendly.
As with developing new email newsletters the new mobile friendly template had to be tested with the main email clients to ensure that they all rendered the email correctly (something I learnt all too well from my previous employment). Again after considerable testing it was time to relaunch K.Scout Plus, and the visual results were clear for all to see. Another new string to my bow.


The move to MailChimp
After more than 12 months since the conversion to mobile a decision was taken to move K.Scout Plus to the MailChimp platform.
Moving to MailChimp did have its challenges to begin with, the biggest one being converting the email template for use with MailChimp and how to implement the custom styling that was required to keep the same look and feel of the emails. In the end it was a simple case of adding a hidden 'block' with the styling code in place.
Anyway in June 2017 the migration to MailChimp was complete, and with it my role of producing and editing future editions of K.Scout Plus became a whole lot easier (WIN).
April 2019 – The Recognition
I've been running K.Scout Plus since 2012 and have been happily sending out new editions on a regular basis to over 600 friends and members of Derbyshire Scouts without any fuss.
So you can imagine my surprise and delight when, in early 2019, I receive a letter informing me that I was to be recognised by Derbyshire Scouts for all of my efforts with both K.Scout Plus and my previous website projects by being awarded the Chief Scout's Commendation for Good Service, which is awarded to scouters who provide a minimum of 5 years of good service to the organisation.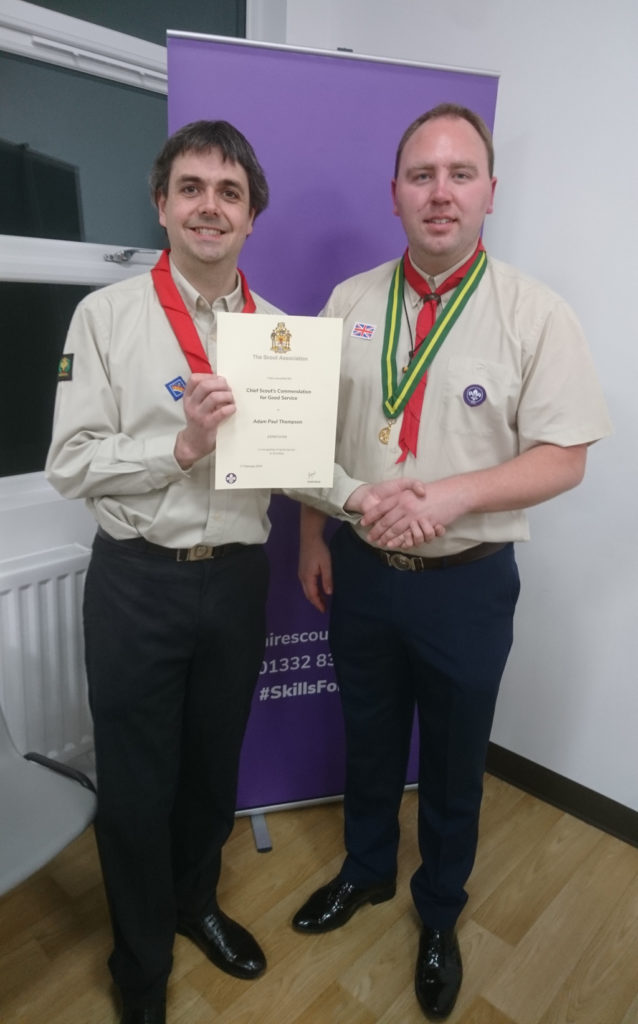 The County Commissioner for Derbyshire Scouts had the following kinds words to say regarding my award:
Adam provided continued behind the scenes support for the IT and Communication for a number of County events and activities. His technical support to the organisers should be commended. He has ensures that the infrastructure to the County Ball and ExFest websites are efficient and effective. He has developed and continues to improve the regular communications to the county through K.Scout Plus. The quality and resources available for parents, leaders and external stakeholders is first class. Adam's outstanding contribution should be recognised with a Chief Scout Commendation for Good Service.

James Stafford – County Commissioner, Derbyshire Scouts
Here's to more K.
I thoroughly enjoy my role as Editor of K.Scout Plus and I'm proud to have played a huge part in helping to improve communications for Derbyshire Scouts. As I get ever nearer to producing the 300th issue, which will be another milestone (and now reached – see below), I simply look forward to continuing a role that brings a lot to a fantastic voluntary organisation – plus it allows me to continue to work on my e-newsletter development skills, so WIN WIN!
UPDATE – 300th Edition Reached!
The next milestone for K.Scout Plus was reached when, on 10th September 2019, the 300th edition was emailed out – another proud moment for me in the role. As of October 2019 K.Scout Plus is going out to over 650 friends and members of Derbyshire Scouts, and long may this continue.
Now to reach the next milestones – 400, 500, maybe even 1000 editions? Who knows!