Bodega Derby Bloggers Event
Posted on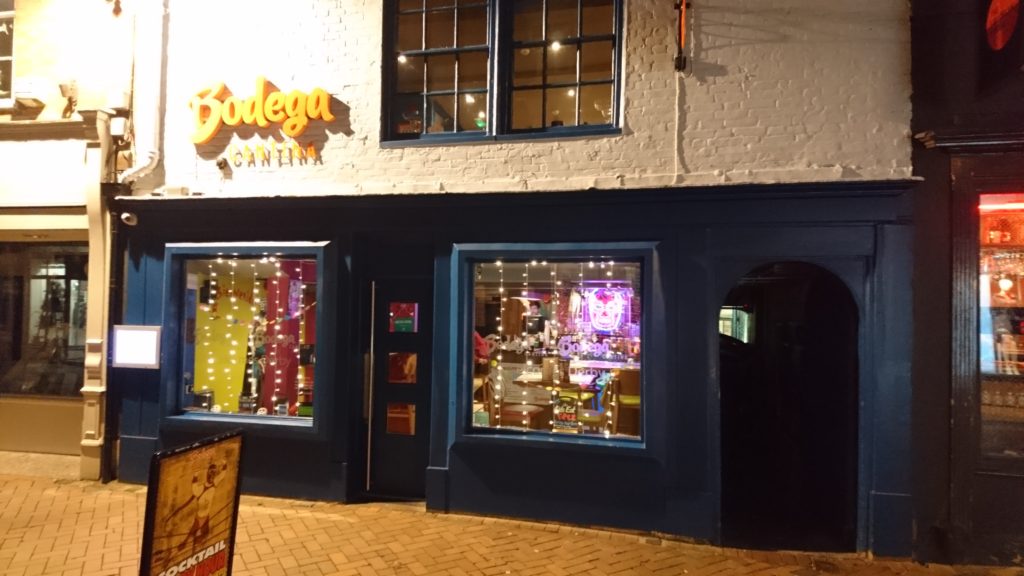 Last year myself and several other local bloggers were invited to a pre-opening event at Bodega Cantina in Derby where we sampled some of the South American chain's food and drink offerings. Fast forward 1 year and we were once again invited to the Sadler Gate venue, this time to try out some of the dishes being offered on Bodega's new menu.
Drinks 'n' nibbles
Upon arrival at the venue we headed to the upstairs room to be greeted by a manager from Bodega owners Bitter 'n' Twisted, and we're then handed an introductory Pornstar Daiquiri Cocktail (the first of 2 for me – hehehe).
It was then time for some nibbles – bowls of tortilla chips, each with a different condiment; Guacamole, Salsa Fresca, and Refried Beans.
The tortilla chips were very crispy and I could easily have these on there own, but I did decide to be brave(ish) and try the refried beans. I'm glad I did try the beans with the chips as these do go well together for me. I can't comment about the Guacamole or Salsa Fresca as I didn't try these (I don't like Guacamole).
Taco tasty
After the nibbles it was time for the taco course. Two varieties of tacos were served to us; 1 meat and 1 vegetarian.
The meaty taco that we had consisted of mole chicken, iceberg lettuce, sesame seeds & coriander. This was by far and away the best taco that I have ever had – the chicken was so tasty and the corn bread is pretty good too. I could happily have had several more of these – maybe another time.
The vegetarian taco contained mushrooms in mole sauce, pickled red onions, refried beans, shredded lettuce, and a cream cheese. I was willing to give these a go and they were actually quite nice, although they were quite messy and a bit difficult to eat at the same time. This taco is also available on Bodega's new vegan menu (without the cheese obviously), and if I were to go for this taco again then I would probably opt for the vegan option myself (but I'd much rather have the chicken taco).
Main dishes
Next it was time to try out a couple of Bodega's large plates – again we would try out 1 meaty and 1 veggie dish. Both dishes were initially served in a big bowl before we all took a share each for our own plates, hence they may look sloppy in the below photos. Trust me though, both dishes are really good so please don't let the photos put you off.
The meat dish that we sampled was Xim Xim, a Brazilian classic featuring chunks of chicken, prawns and diced vegetables in a thick creamy peanut butter & coconut milk sauce with dirty rice & tortillas on the side.
Quinoa Chifa was our veggie main. This Chinese-Peruvian stir fry contains quinoa, tofu, broccoli, sliced vegetables and spring onion in a teriyaki spiced sauce.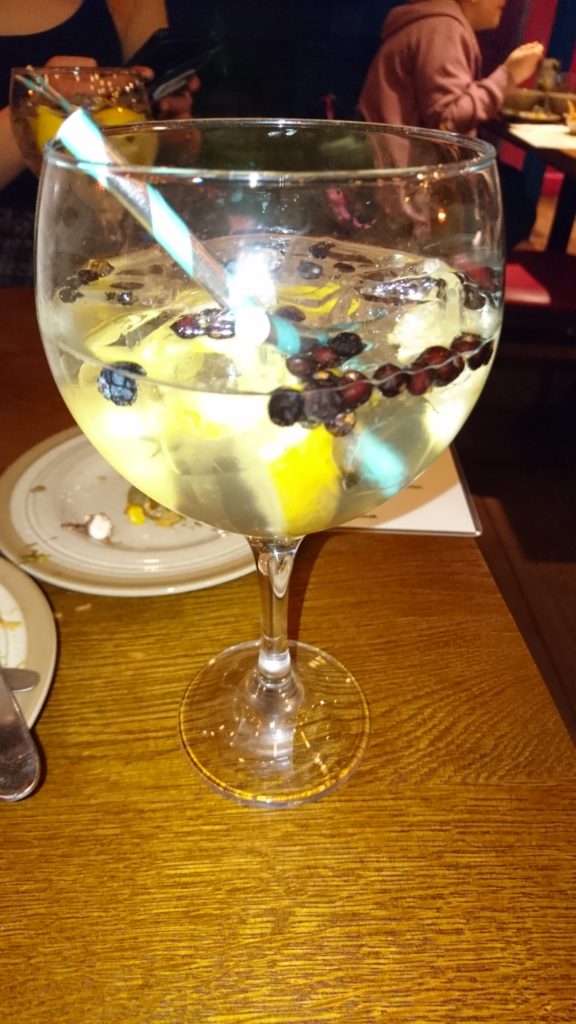 A perfect compliment to our main dishes was a lovely glass of gin & tonic. Now I will confess that this was the first time that I've had a G&T, and I have to say it was rather nice so it definitely won't be the last one that I have.
Cocktail making
After the main dishes it was time for us bloggers to have go at making some cocktails (or mocktails for non-drinkers). Now I could show you some photos of me having a go at making a cocktail, well I will do but first I present you a video of my cocktail making skills (Thanks to Angie for offering to film this for me).
Apologies for the problems with picture freezing and sound being out of sync. This I suspect is due to interference caused by notifications appearing on the smartphone used to film this.
OK, now here are some photos of my attempt: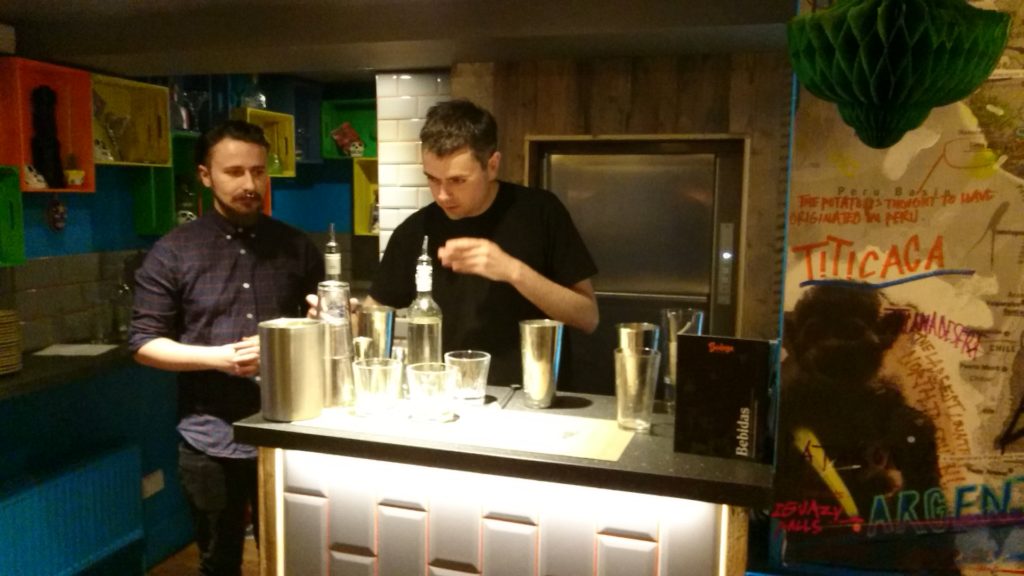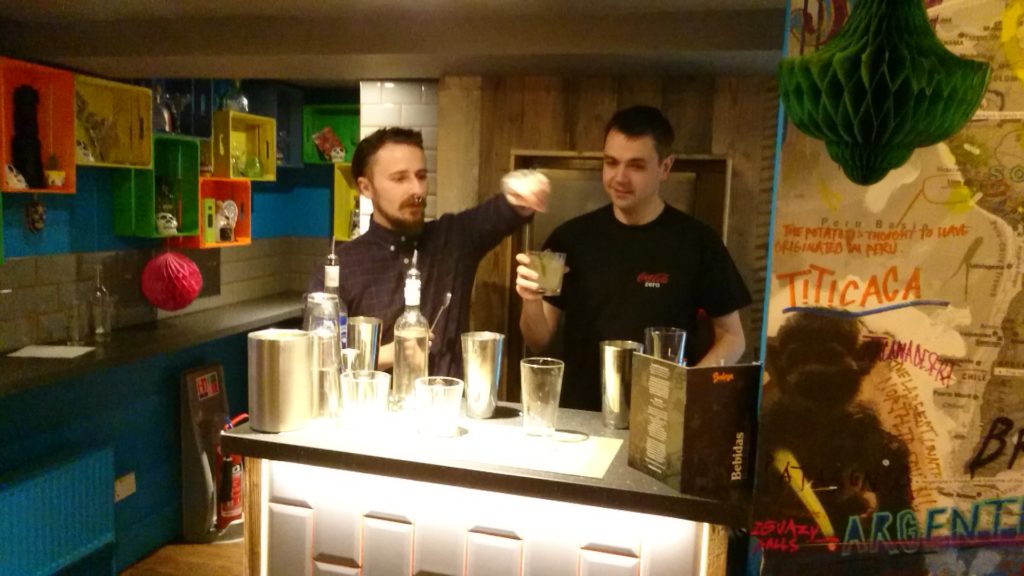 Considering this was my first attempt at making a cocktail (another first) I was rather pleased with my finished product and would certainly be happy to have another go if/when the opportunity arises.
Overall thoughts
"What a fantastic evening" – just one of the many positive thoughts that I had of this event. The food overall was fantastic, even the vegetarian dishes (which I wouldn't normally go for) were great – so much so that I could happily go for these again on a future visit. The drinks were really nice, and it was great to be able to have a go at making my own cocktail. The hosts were superb all evening, even asking for our thoughts throughout.
Another highlight of the evening was meeting some fellow bloggers including Monet (Munching With Monet) and Jay (Comic Books & Yellow Ducks), as well as catching up with Angie (The Sticky Beak Blog).
This was a fantastic event and I'm already looking forward to visiting Bodega Cantina again (the sooner the better).
Address – 36 Sadler Gate, DE1 3NR
Website – http://www.bodegacantina.co.uk
Facebook – https://www.facebook.com/BodegaDerby/
Twitter – https://twitter.com/BodegaDerby
Instagram – https://www.instagram.com/BodegaDerby/
Disclaimer – All food and drink items were provided free of charge for this event, however all views in this review are 100% my own and not influenced by any incentives provided.