App Review – JD Wetherspoon Order and Pay
Posted on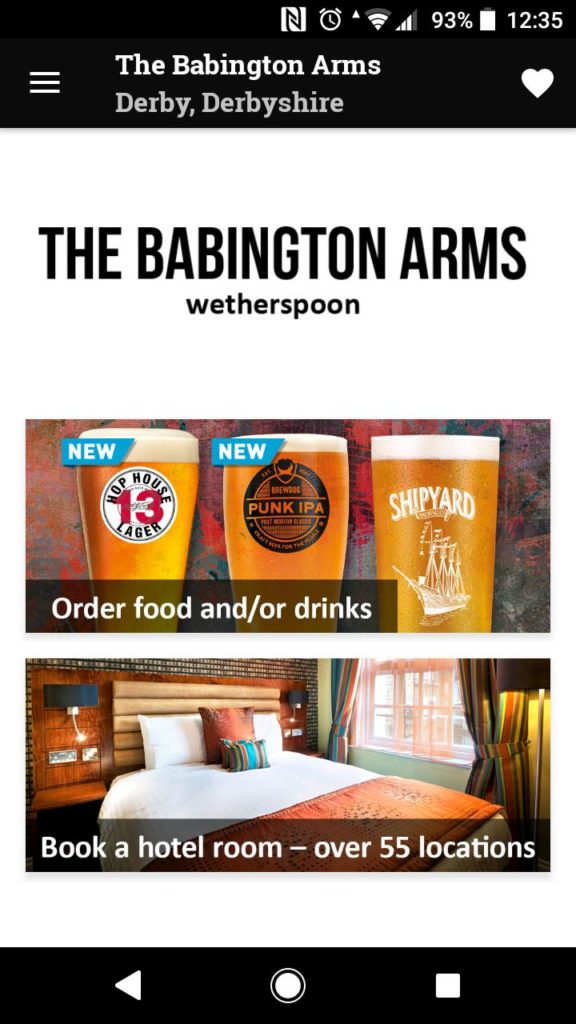 Picture the scene – you've just arrived at a pub and it's absolutely heaving with customers, but at first this doesn't put you off and manage to find a table. Next you head to the bar to order some food and drinks but it's so busy that there is a long wait just to get served. Eventually you get served and place your orders – all is sorted, but all that time spent queuing to order could no doubt be better spent relaxing at your table whilst your orders are being prepared?
Well thankfully a solution to this problem is now at hand thanks to a nifty mobile app that allows you to order food and drinks from the comfort of your table, and in doing so bypassing the long queues at the bar. The app in question here is JD Wetherspoon's 'Order and Pay' app.
Firstly, I'm a Wetherspoon's fan
Now I will just say at this point that I'm a huge fan of Wetherspoon's mainly because they provide a good range of meals at reasonable prices – nothing expensive or pretentious. Add to this an excellent drinks range including real ales and you have yourselves a decently-priced pub meal on your plates. I also like how the company takes on old, disused buildings and then give them a new lease of life. Plenty of examples include former bank buildings, cinemas, theatres, etc.
Anyway, let's order
We arrive at The Babington Arms in Derby for a pre-match meal and not surprisingly for a match day it is busy with punters – a great opportunity to order our food and drink without having to go to the reasonably busy bar.
Upon opening the app the first task id to select the pub that you are in. Using GPS the app identifies which pub you are in (or nearby – it can't always to dead on accurate) and asks you to confirm this.
Pub selected, now to choose our food orders. The app displays the various menu options in the various menu categories that you would find on their printed menu, so you can use the app in conjunction with the printed menu for reference purposes. Even the relevant 'club nights' are included in the app, and if a particular item/dish is sold out then this is greyed out so you can't order it – a useful feature this. Anyway on this occasion both my dining partner and I opt for a Wetherspoons curry.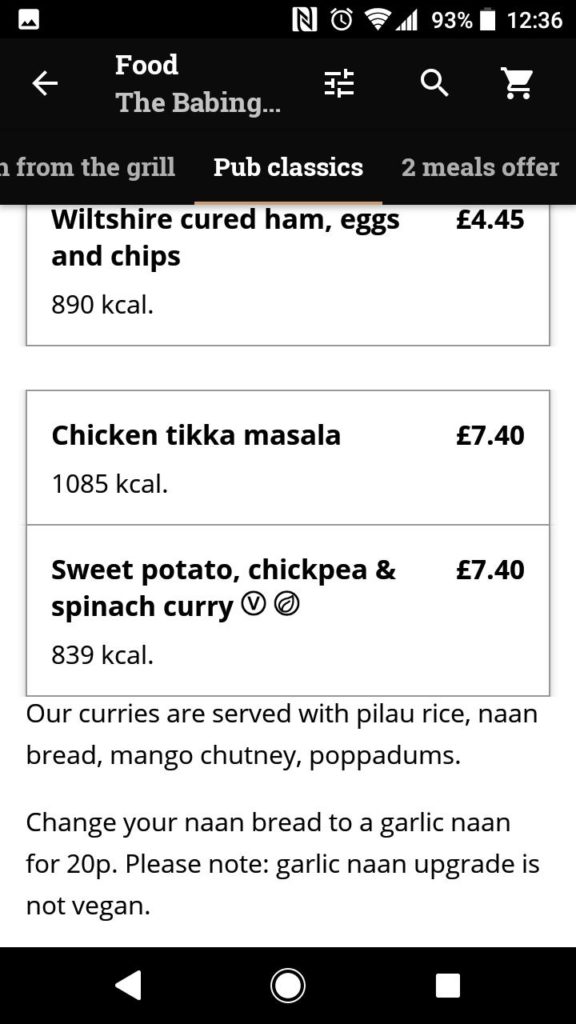 Upon making our first food choices we are then asked to select the table that we are on, once this is all confirmed we can then continue with making our food and drink choices. Firstly I choose the Chicken tikka curry and I'm then asked if I wish to upgrade to a garlic naan bread, which I decide against as I'm more than happy with the plain naan.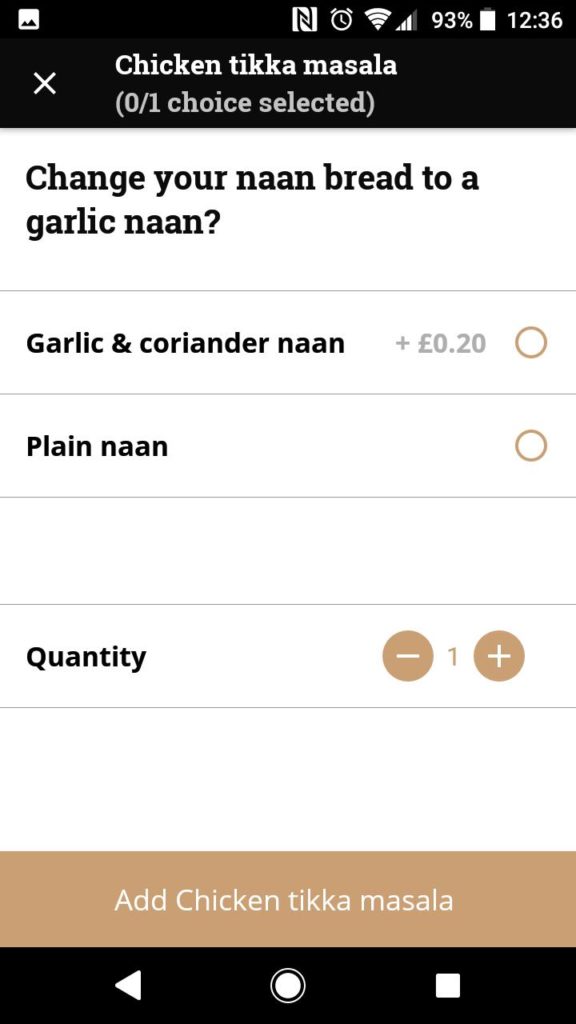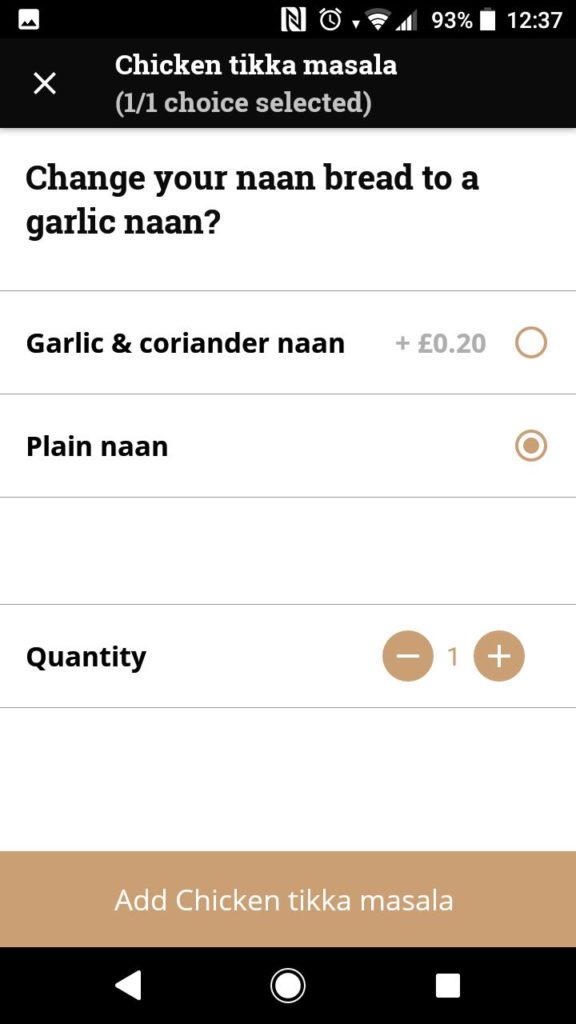 A similar process is applied for my dining partners choice of the Sweet Potato curry, again sticking with plain naan bread (a message does appear stating that the garlic naan is not vegan which rules this out, but it's really good that such information is stated here – points to Wetherspoons here)
So food dishes chosen, just to add on the drinks. We both decide it's a bit early for beers so we instead opt for colas.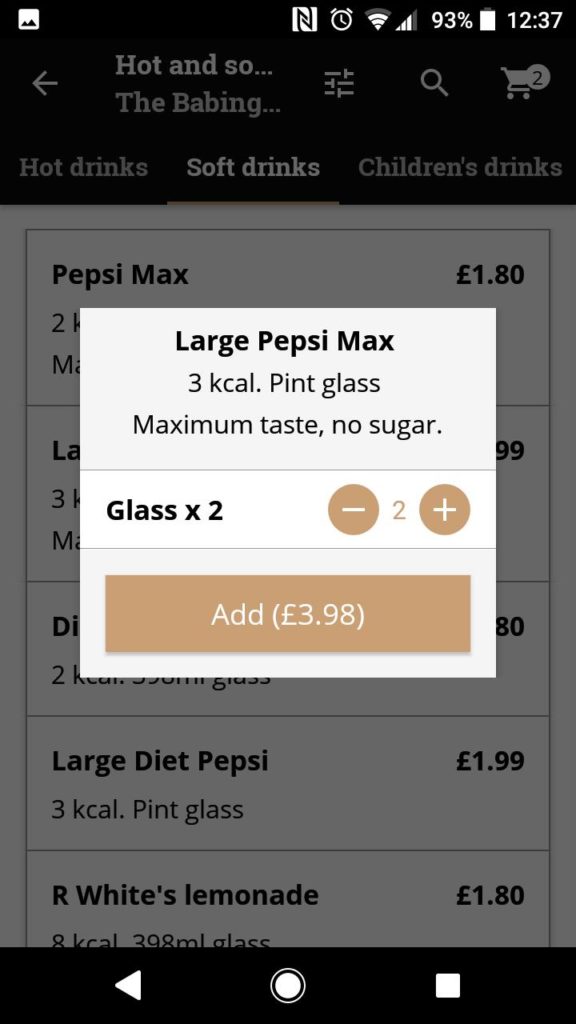 Drinks selected, now to pay for the meals – and here is where the app scores more points for me.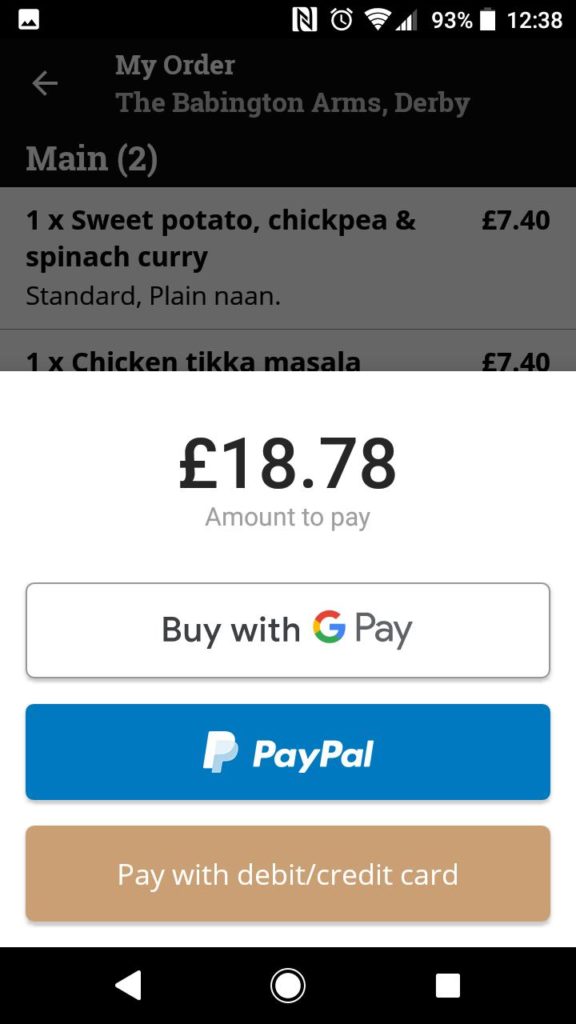 The Order and Pay app allows you to pay using a variety of cashless payment options including debit/credit card, PayPal, and mobile wallets Apple Pay and Google Pay (obviously depending on your phone). I opt to use Google Pay as for me this is by far easiest option. So simply select to pay with Google Pay, confirm my payment card and HEY PRESTO – the order is all paid for. You then get notifications on screen and also via a separate email confirming your orders (you are ask to register an account upon first time usage of the app, which is a simple process here).
All that remains now is to sit back, relax, and wait for the meals to arrive – which they do around 10-15 minutes later, and what arrived on our table was exactly what we ordered.
Postscript
This review is actually based on the second time I used this app and I've used it a few times since, so here are a few more points to make about this app.
Firstly more good points – Some items come with a free drink included, and the app calculates these and makes relevant deductions from the bill prior to you confirming orders and making payment.
Another benefit is that if you are a single-diner then you can order using the app and not have to worry about losing your table. I've actually used the app as a single-diner and it is much better than having to ask a member of staff to save the table for you, or simply ordering at the bar and then hoping that your table hasn't been nicked by another diner.
As well as ordering food you can also find out opening hours for each Wetherspoons pub, as well as find out more information about the history of each pub.
There are a couple of minor niggles, but only minor:
The app doesn't allow you to make any special requests/alterations to your dishes (i.e. no onion rings, replace with extra chips, etc). Wetherspoons have often been brilliant with honouring such requests when asked, and it would be great if such a facility could be added in to the app in the future.
As a fan of real ales it's a shame that guest ales are not listed in the drinks mean on the app – again maybe one for a future app update?
Overall thoughts
For making restaurant orders without having to go to the bar this is a fantastic app. Being able to order your food and drink without having to visit the bar can make the whole ordering experience far less stressful especially if the bar is really busy. As an example of this I used this at another Wetherspoons pub on a very busy Saturday night and the bar was absolutely rammed with customers – and yet my order arrived only 10-15 minutes after I paid for my order with the app, I can only imagine how much time would have spent between ordering food and it arriving had I gone to the busy bar instead.
It's easy to order food and drink through the Order and Pay app, and I love that you can use Apple Pay and Google Pay for payment – much quicker than having to enter your card details every time (I can't comment on the PayPal option as I don't use this method).
It's clear that a lot of thought has been put in to the development of this app and it clearly shows; different payment options, calculated prices after deductions of offers, phone and email confirmations, etc. All these little touches add to the fantastic experience of ordering using this app. Niggles-aside this one of the best apps that I've used, and I can only see this improving further in the future. I rate this app 9/10.
Website – https://www.jdwetherspoon.com/pubs/order-and-pay-app
Disclaimer – This review is based purely on my own experience. I was not approached/asked to review this app by the company concerned. All views in this review are 100% my own and have not been influenced in any way.